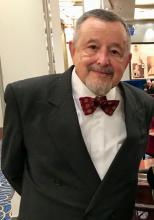 Description
David Herman is Trustees Distinguished Professor Emeritus of Music and University
Organist at the University of Delaware. A native of Pennsylvania, he earned degrees
from Wittenberg University, the University of Michigan and the University of Kansas.
In 2007 Nashotah House Theological Seminary awarded him the degree D.Mus. (honoris causa) for his service to church music.
Dr. Herman is the author of The Life and Work of Jan Bender as well as numerous reviews and articles for professional journals. He has served on the faculties of five Pipe Organ Encounters and spoke at the AGO Region III Convention in Washington on Recruiting and Teaching the New Organist. His presentation The Organ Works of Samuel Wesley was featured at the 2004 AGO National Convention in Los Angeles. Dr. Herman is active as both a composer and a recitalist, performing in the United States and abroad: throughout Germany and Scotland, in Dublin, and in eleven English and Welsh cathedrals including London's St. Paul's, Westminster and Southwark Cathedrals and Westminster Abbey. His CD from Coventry Cathedral of organ works by Samuel Wesley was released in 2003 on the Redcliffe (UK) label and his recording on the UD organ, Great Mixture!, appeared in 2006. Herman's recording of choral and organ works by Hugo Distler and Jan Bender, A New Song, was released in 2012.
David Herman and his wife, Lauri have two children and four grandchildren
More information: herman@udel.edu