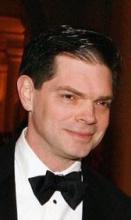 Birth / Death Dates
b. 1957
Description
Ned Tipton began his piano studies at the age of four, and gave his first recital at the age of six. He soon took up the violin, organ, trumpet, oboe, and flute. His held his first post as church organist at the age of fourteen. He was a student of Marilyn Keiser and William Dan Hardin, and a piano student of Louise Ogle and Thelma Madge. As a winner of a Rotary International Foundation Scholarship for the school year 1979-1980, he continued his piano studies at the Ecole Normale de Musique, Paris. He received his BM in Piano and his MM in Choral Conducting from the Oberlin College Conservatory of Music, Oberlin, Ohio.
After serving churches in Ohio and Georgia he was called to the post of Canon for Music and Organist at the American Cathedral in Paris, where he remained 21 years. In 2010 he accepted a call to serve in a similar capacity at St. John's Cathedral, Los Angeles, where he remained until August of 2017. As a pianist/organist he has played recitals all over Europe and the United States, and he recently appeared with the National Symphony of Costa Rica. As a conductor he led the Paris Choral Society, which he helped found, through an impressive number of the major works for symphonic chorus and orchestra. He served as adjunct professor of music history for the Paris year-abroad program of Trinity College, Hartford.
A resident of Atlanta from 1986 until late 1989, he was Assistant Administrator and Interim Director of the Robert Shaw Institute at Emory University. Tipton maintains an active international career as an organist, and was a featured recitalist of the 2009 conference of the Association of Anglican Musicians in Los Angeles. His most recent service to the American Guild of Organists was as Dean of the Los Angeles Chapter, 2nd in size only to the New York Chapter.
He has returned to his native city to be with his family and maintain his performing career with Asheville as his base. In January he began work at Grace Episcopal Church, North Asheville, as Director of Music.