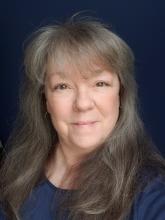 Description
A native of Oneida, IL, Lori Larson has played piano since the age of four, and has been writing arrangements of choral music since high school. She received her Bachelor of Music Education degree from Northeast Missouri State University (now Truman State University) and studied choral music conducting at the University of Iowa. 
Ms. Larson joined The United States Army Band (Pershing's Own) in 1989 to sing with The Army Chorale, where she performed for audiences of soldiers as well as presidents, in venues including the Kennedy Center, National Cathedral, and Carnegie Hall. While singing with The Chorale, she served as alto section leader, librarian, music director, and arranger. She also appeared as mezzo-soprano soloist with several Washington DC area performing arts organizations and churches.
A civilian once more, Ms. Larson retired to Huntsville, AL, where she studied organ with Dr. David Lunn Miller. She joined the staff of Huntsville's First United Methodist Church, first as alto section leader, and later as assistant organist, accompanist, and conductor. With the Sanctuary Choir and the First Family Singers (an adult women's choral ensemble) as inspiration, she continued her arranging work, now writing music for the church.  
Ms. Larson is a member of the American Guild of Organists and is active in the Huntsville music scene as an organist, composer-arranger, accompanist, and soloist. She is married, and is owned by three cats.