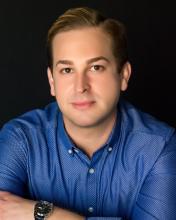 Description
A native of Oklahoma, Nolan Patrick Reilly was appointed Director of Music and Organist at the Cathedral of Our Lady of Perpetual Help in Oklahoma City in February of 2022. Previously he served as Organist and Director of Music at St. Thomas More University Parish for more than a decade. Under Reilly's direction the music program at St. Thomas More expanded to become one of the most comprehensive in the area, including full series of recitals, concerts, services, a vespers series, and a thriving parish choir which employs sixteen staff singers and an Assistant Organist. 
In 2009, he was accepted to the University of Oklahoma School of Music and was awarded the Mildred Andrews Boggess Memorial Scholarship. It was there that he earned a Bachelor of Music in organ performance, followed by a Master of Music in Choral Conducting. During his graduate degree work he additionally studied organ and composition. 
Nolan Reilly's 2016 composition, The Collegiate Mass, is used as the principal setting of the ordinary at multiple churches, including St. John Vianney Theological Seminary, Denver. 
Serving as both organist and conductor, Reilly has been involved with several convention liturgies, and in 2017, he played for the internationally broadcast and televised Beatification Mass of Blessed Stanley Rother. Subsequently he has served on committees responsible for the construction of a new church and the selection of two notable pipe organs in the region, including the refurbishment of E.M. Skinner Pipe Organ opus 422 for St. Thomas More University Parish.
Previously a Dean of the Southern Plains Chapter of the American Guild of Organists, Nolan Reilly is active as a published composer, performer, and conductor.