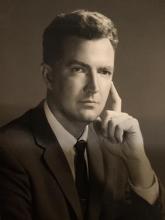 Birth / Death Dates
1924-2019
Description
A native of Tampa (Florida) he attended Sewanee until called up for WWII service. He was a Chaplain's Assistant stationed in the Philippines during which time he conducted a choir and played a field organ for services. After an honourable discharge from the army, he returned to higher education in the field of music. He received a BMus in organ from Rollins College in Winter Park, and an MSM from Union Theological Seminary in NYC.
In 1951, he was called to St Peter's Episcopal Church in St Petersburg (cathedral since 1969) where he created and maintained a vibrant, reputable music programme and remained there until retirement in 1986. In 1960, he joined the faculty of St Pete College as organ instructor.
Post retirement he consulted, taught as an Adjunct, and raised money for a Heissler organ in the college Music Center.