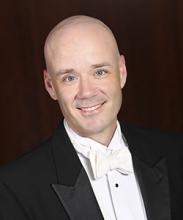 Description
A native of Louisiana, Ryan Hebert, is assistant professor of music, director of choral studies and University organist at the University of Tampa. Hebert conducts the University's three choral ensembles, teaches music theory and performs and teaches on the University's new three-manual, 56-stop Dobson tracker organ in the new Sykes Chapel and Center for Faith and Values.

Choirs under Hebert's direction have performed all over the United States and abroad, including invited performances for the American Choral Directors Association State Convention in South Carolina and at the National Cathedral in Washington, DC. As an active choral clinician, Hebert has been invited to adjudicate for numerous choral festivities as well as to conduct various honor choirs throughout the region. Recent guest conducting appearances include the Hillsborough All-County SSA Choir in Tampa and the District X All-County Choir in Chesapeake, VA. In 2009, he presented an interest session at the Southern Division ACDA conference in Memphis, TN. He is also a published author, including two articles in Choral Journal, the national publication of ACDA. Hebert is also an active composer. For the Jefferson Choral Society's Composition Competition in Lynchburg, VA, his choral setting of E.E. Cummings "i carry your heart with me" was selected for first prize. The piece was premiered in February 2011.

Hebert's former teaching positions were at the South Carolina Governor's School for the Arts and Humanities, the state's only public boarding school for artistically gifted high school students, and at Longwood University in Virginia. In 2010, he was the recipient of Longwood University's "Faculty Recognition Award." The award honors a single faculty member at commencement each year for professional excellence and devoted service to students.

Hebert is an active member of the American Guild of Organists, a church musician and is a Carillonneur member of the Guild of Carillonneur's of North America. As an organist, he has performed extensively in the United States as well as in England, Germany and the Netherlands. Carillon performances have included recitals in Louisiana, Iowa, Tennessee, Oklahoma City, Toronto and Haarlem, the Netherlands.

His former choral conducting teachers include Sandra Willetts, Granville Oldham, Michael Bauer, Simon Carrington and Kenneth Fulton. Former organ teachers include the late Warren Hutton, Michael Bauer and James Higdon.