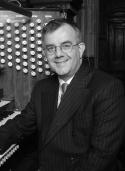 Birth / Death Dates
b. 1952
Description
Malcolm Archer is much in demand internationally as a conductor, composer and organist, and has given many recitals in the USA as well as conducting concerts and directing leading choral courses there.

His career has taken him to several English Cathedrals as Director of Music, including Wells and St. Paul's, and for eleven years he was Director of Chapel Music at Winchester College.

He has over 250 published works, which include organ and choral works, a one act opera, instrumental and orchestral pieces and two musicals.